Online scams have spiked during lockdown. Businesses are now working from home, banks are advising people to make online payments, and people are using home delivery services to stay safe. Our dependency on the internet has resulted in an increase in cyber crime.
The National Criminal Records Bureau revealed that there has been a sharp decline in Burglaries, Robberies, chain and mobile phone snatching but a steep spike in online scams this lockdown period.  In order words, cyber criminals have seen the lockdown as a opportunity to attack people through online scams. 
Therefore, as we continue to stay online, we become vulnerable to these online scams. Online scams come in different forms, and target different people. Cyber criminals use a technique called "Phishing" to steal personal and business information.
What is a Phishing Scam?
Phishing is a cyber crime activity involving a target being contacted by email, telephone or text message by a person posing as a legitimate contact. Phishing attacks are used to extract sensitive information such as your banking, credit card details or passwords.
Watch Out For These Online Scams
So, here are a few online scams to watch out for this lockdown period.
Health Care Scams – There has been an increase in online scams taking advantage of Covid-19 fears. Scammers are sending out emails, SMS, and websites claiming to give out Covid-19 remedies and guidelines.

These scams look like they are coming from Government or official authorities. However, when you click on the links, or download the attachment supposedly giving you safety guidelines, you end up downloading malware onto your device.
Phishing Scam impersonating WHO (Source: Sophos)
Investment Scams –

In the current financial crisis, cyber criminals are targeting individuals by luring them into joining investment schemes, getting discounts or bonuses. These scams force you into urgently responding by promising unrealistic financial returns. Therefore, watch out for these scams in your inboxes, phone calls and on

social media

.

Online Shopping Scams – Cy

ber criminals are now sending emails and notifications about fake deliveries from notable brands. Scammers are fooling people by impersonating Amazon and FedEx by sending out messages such as "Your delivery is on hold until you verify some details."  Furthermore, UK supermarkets, Tesco and

Aldi

have also been used by scammers to lure people into revealing personal information in exchange for free shopping vouchers.

Online Streaming –

As we turn to Netflix, Amazon Prime and Hotstar to binge watch box sets and movies, hackers are cloning these sites as a way to get our personal information.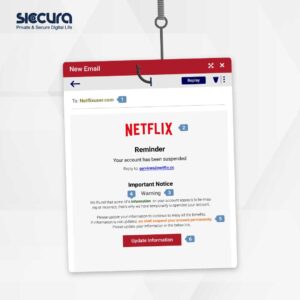 CEO Fraud –

With many of us working from home, fraudsters are taking advantage of our lack of knowledge through CEO Fraud. CEO fraud involves receiving an email from a C-level associate in your company asking you to do something. These emails typically ask your to make a bank transfer or download policies or safety precautions. Any type of company can be a target of CEO fraud attacks.

Facebook and Google

were scammed out of $100 million as a result. 
How To Stay Safe
Therefore, to ensure that you don't fall into the trap and become a victim of online scams, follow these tips.
Look but don't click –

Always read your emails carefully and look out for grammatical mistakes, a sense of urgency and don't click on any links or attachments without looking at the hyperlinks.

Don't know, don't trust– Don't open emails from people you don't know or trust.

 If you receive an email from someone you know asking you to do something unusual, always check with the sender.

Use trusted sites – Stick to reputable sites if you are looking for

health or financial information.

Watch out for the "Https://"

Keep devices updated –

Update your devices to the latest software. 

Don't panic, report it –

If you receive a suspicious email in your business inbox, report it to your IT department. Report any scams you receive in your personal inbox to Government or official authorities. 
Above all, why not spend this time turning into your very own human firewall with our latest program, Siccura Cybershield.
Siccura Cybershield
Siccura Cybershield is the most interactive Data and cyber security training awareness program. With a philosophy as simple as Test. Aware. Engage, we'll help you:
Test

your employees and IT defences by playing the role of an attacker

Make your employees

aware

of the types of attacks such as Phishing, Vishing, Ransomware and more

Engage

your employees by sharpening their knowledge, and teaching them how to combat threats.
Through the training program, we'll help you turn your employees into a Human Cybershield ready to defend your business.